Growing up, it was always exciting to play dress up in my mother's clothing or make new outfits for my dolls. Fashion is a lot of things to me, an expression of my mood, a visual statement, and part of my identity. Fashion is more than clothes, shoes and accessories. It is a literal diary of personal growth and exploration of identities. African prints or Lappa as we call it in Liberia is big part of my fashion and this often expressed in clothing or with head ties (head wraps).
I consider myself a converted "Lallapolian". As a Liberian, African lappa or its western coined name "Ankara" has always been in my life. From the early years when I'd follow my mother to Waterside market for ready to wear suits, tie dyes pants, Leather bags and dyed leather sandals. I can still recall the bells, the hawking of walking clothing racks and pushing and shoving as we made our way to the stalls. Christmas was the most crowded – bells, radio blasting from wheelbarrows, always seem like each year you could figure out if the Christmas was going to be "dry" (meaning hard economic times) or not by number of people in waterside. Bigger crowd meant Christmas was good for all. However, by teenage years, my first wave of rebellion against the lappa started. Watching music videos and TV series promoted the cool American look. From Tupac and bandanas, Aaliyah and sagging pants, to TLC and big shirts. I abandoned African prints for the cool look of jeans, jumpsuits, Timberlands, and hot pants to the horror of my father, and plaid shirts all in a desperate attempt to imitate Aaliyah and TLC. I'd follow my friends and we'd rummage through their older sisters' closets, pull out their jeans and shirts and head out to high school events confident that we would not run into them. After high school, textiles stores in waterside were our favorites – cotton prints, linen and polyester as we desperately tried to get our tailors to make copies of styles, we saw in western fashion magazines.
I moved to the US in 2002. I found my first few months strange. I'd get complimented, by I'm sure well-meaning folks surprised by how "American" I dressed or how I knew the latest Khia song. Don't judge me on Khia. That song was the quintessential bold sexual autonomy anthem! I had thought I was hip and all caught to American pop culture yet it seems that folks still saw the arrival of Africans should have meant coming with spears and cheetah skin. Now for my mother, America was just a post mail away. So, every few months she'd make a couple of African suits and send along with spoons, beaded jewelry, and even toothpaste. So, I would wear them in my dorm room and take pictures and send them back to her. Initially I started wearing them and to international student activities or at school occasions. I'd get complimented on my "costumes". It felt a bit theatric and overdressed. Since I was a broke college student, I started wearing them at weddings outside of school events and would tie my hair with leftover pieces sent along with it. Wearing my lappa suits at Liberian weddings felt comforting. I felt like I was home away from home.
As the years went by, the styles my mother sent me changed. Instead of traditional lappa suits, my mother was now sending me dresses, hip and modern. A style evolution was taking place in Liberia as the tailors attempted modern versions of lappa styles. The resurgence of African prints continued in the diaspora – at weddings, public events and even catwalks of New York Fashion week. In 2010, I made my first trip back home and came back with a suitcase full of new African clothing. By the time I had moved back home in 2013, I was wearing lappa and head ties consistently. Lappa became not just a fixture in my closet but an expression of my identity.
Head tie in particular have always been part of traditional lappa suits. Sometime elaborate and at times a single wrap. From church to community events such as weddings and or funerals, all across West Africa, women wrapped their heads in lappa print, lace or imported scarves. Head ties could convey a woman's socio-economic status in West African communities. Depending on the type of head tie, the color or the print being used, a woman position in society could be determined. An interesting tidbit of history around Lappa is how West African women slaves in the US continued to wear head ties (head wraps) in an affirmation of their identity. Practically, it helped with the heat but eventually, it supported a symbolic community for the women who had to slave plantations from any walks of life. For these women, a head tie affirmed their identity but also was a symbol of their survival and as a community of women, a small but intentional effort to hold their heads up, crowned in a small wrap and ready to meet each day's work but comforted by their stories of survival. It has become cooler to wear them as they became trendy. From Africa to the US, head ties are now quite fashionable.
In 2017, at feminist convening, during a conversation about women leadership and participation, feminists and women rights activists recounted being discriminated against when they attended meetings in traditional lappa suits. They were "Lappalolians". They laughed when recalling some of the experiences of being treated as illiterate or a low-level staff of the organization they either managed or was representing simply because they were in lappa suits. So they deliberately and consciously chose and continued to wear their lappa suits to events (national and international) as a challenge to the stereotypes and discrimination. So, it gave a whole new symbolic meaning to lappa. Hence, as a measure of resistance and reaffirmation of identity as Liberian, I've come full circle.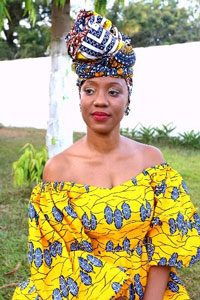 About the Author
Lakshmi Moore is a Liberian Feminist, a member of the Liberian Feminist Forum. A mother, wife, and a self-professed Lappalolian. Professionally, Lakshmi also serves as the Interim Country Director of ActionAid Liberia, an international social justice organization working on women rights and gender equality issues in Liberia.